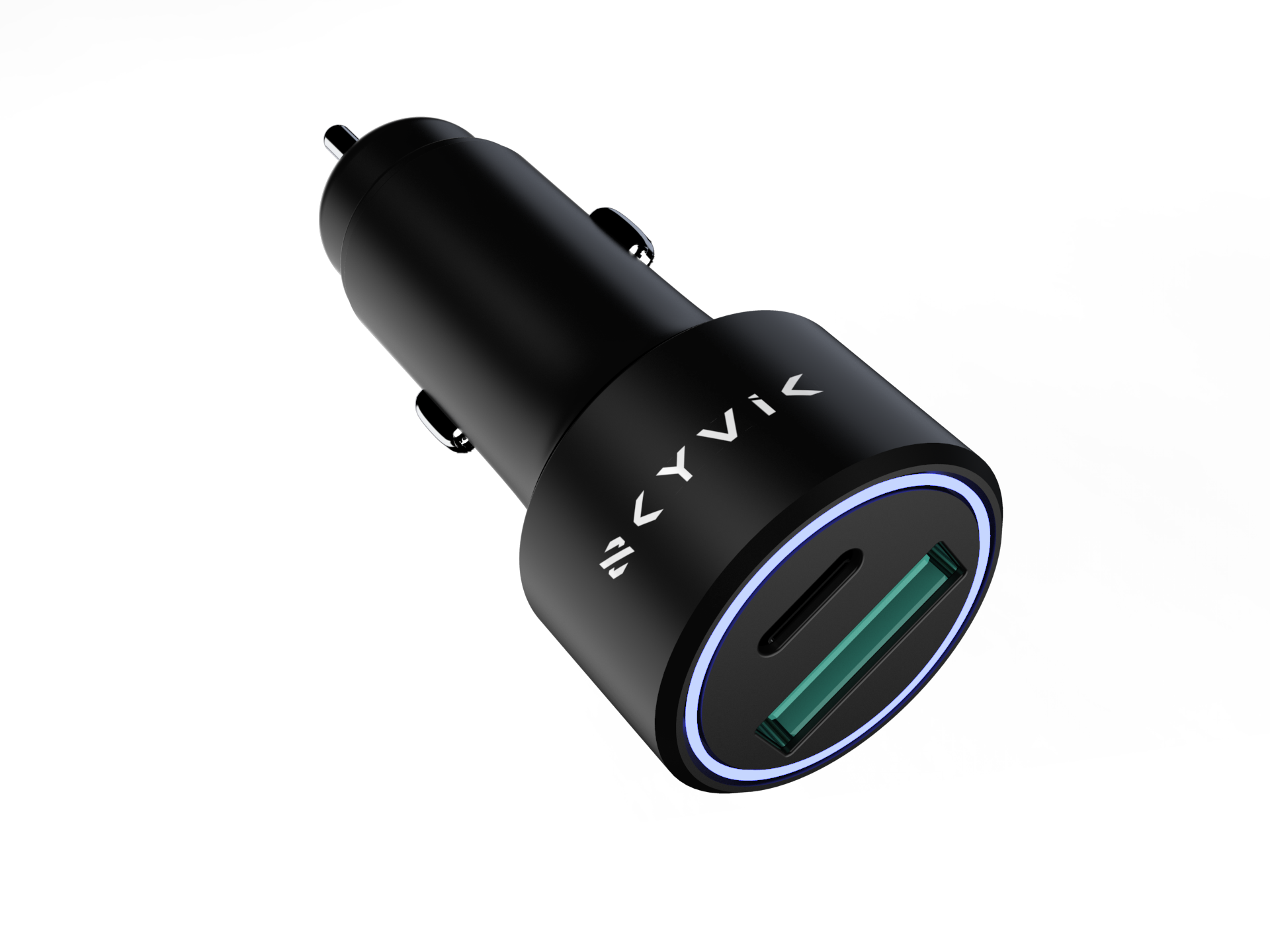 SKYVIK EMBLO Dual Port QC 3.0 & Type C with Power Delivery 18W-36W Max
Sale
Original Price
Rs. 1,499.00
Current Price
Rs. 1,199.00
Get an additional 10% off using coupon code FAMILYFIRST
Dual Port Fast Charging – EMBLO Car Charger:

The EMBLO Car Charger, a powerful dual-port charger that supports QC 3.0 on the 1st port and 18W (Power Delivery) on the 2nd. Now, you can charge two devices simultaneously at maximum speeds while on the drive, whether it's your mobile phone, tablet, or laptop.
Premium Built and Design for Luxury Standards:
Crafted with precision and style, the EMBLO Car Charger features a highly premium, one-of-a-kind laser-carved aluminum body that complements the luxury standards of your car interior. Its sleek matte black finish adds a touch of sophistication to your driving experience.
LED Ring Light for Distinctive Elegance:
The EMBLO Car Charger is equipped with a white LED ring light that not only enhances its premium appearance but also signifies the SKYVIK standard of quality. Experience the elegance of this stylish charger every time you use it.
Safety First with EMBLO Chipset:
Your safety is our top priority. The EMBLO chipset follows the highest safety standards, ensuring the protection of your devices from overcharging, overheating, and short circuits. Drive with peace of mind, knowing your devices are in safe hands.
What You Get:
When you choose the EMBLO Car Charger, you get the SKYVIK EMBLO Car Charger itself, backed by our worry-free 12 months warranty. We are committed to providing friendly customer support to address any queries or concerns you may have.
Upgrade your car charging experience with the EMBLO Car Charger from SKYVIK. Charge your devices at maximum speeds, enjoy the luxury-grade design, and stay safe on the road. Elevate your driving journey with the convenience and reliability of the EMBLO Car Charger.