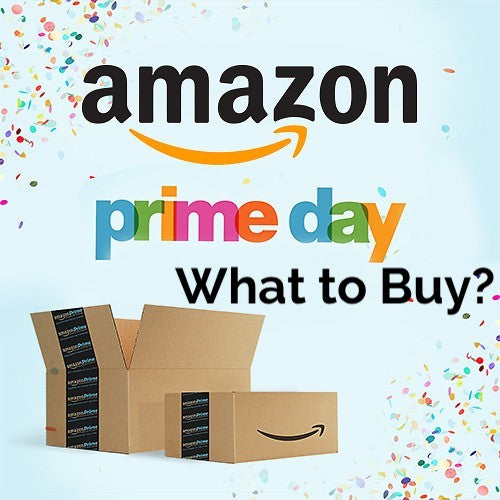 10 Best things to buy on Amazon Prime Day India
India is indeed a country of most wonderful festivals, and festivals means lots of shopping. Where traditional festivals gets us sales in offline as well as offline market nowadays e-commerce giants and introducing their own special sale days or we can say shopping festivals like Flipkart's Big Billion Day Sale or Amazon's Prime Day sale. These sales are based on huge extravaganza marketing and jaw dropping discounts.

So as most of the people know today again it's one of that Sale Festival by Amazon called Prime Day where there will be offers and deals for 36 hours, and being a company and amazon seller myself i can feel the pressure this day builds around. 

You can expect great deals and may urge to grab them without much though to which they technically say Impulse Purchase. Some offers may be irresistible but investing even little in something which will just go in drawer is a wasted money. So before clicking that buy button just ask yourself once if you really need it and you're gonna use it. If not, just drop it and invest in something useful or just save your hard earned money.
Below listed are some of the products i personally feel are good to invest in.
1. Amazon Fire TV Stick
I have been personally using this device and it's major competitor Google Chromecast, in my experiance both devices are good but Amazon Fire TV Stick has got a little more edge due to more content availability along with user friendly UI and easy to use remote. You should definelty invest in this little product if you are using old not so smart TVs. Amazon always gives big discounts on it's devices so you can expect never before price on this one.

Link: https://amzn.to/2NOQIVE
2. Books
When it comes to books, i generally prefer Amazon due to wide availability and discounts they offer, generally you can get around 50% or even more off on books but on Prime Day you can get those at even more of a Steal Price. So, add all of your favourite ones in your wishlist and grab when you see great price on them.
Link: https://amzn.to/2LkgzTK
3. Mi 10000mAH Power Bank 2i
This is one of bestselling item on Amazon and it just deserves that. It's stylish, made of aluminium, sleek, good battery backup and 2 USB A ports which fast charges your device. What can you ask more for that price? If you're looking for power bank just get this one eyes closed.
Link: https://amzn.to/2Lp1ccY
4. OnePlus 6
I don't think i need to explain why this company and device is great. It's a beast of a phone at this price. One Plus generally doesn't offer any discounts but you surely can save some with Prime Day offers. They are even launching RED version of the phone today.
Link: https://amzn.to/2NkMbt3
5. JioFi 4G Hotspot
If you have a single SIM phone with non Jio carrier you might wanna invest in this little gadget, it let's you use additional SIM with any of your phone. You can make calls via sim inserted in this device, send and receive texts and of course use Internet via WiFi. Normal price of this device is Rs. 999 and you surely can save more than 10% on Prime Day, It's no brainer and you can easily go with this product which will make your life a lot more easier and extra internet data never hurts right? ;)
Link: https://amzn.to/2NWRyQq
6. Apple MacBook Air MQD32HN/A
It's the cheapest apple computer you can buy in the market packed with good specs to help you with any of your college/office work. I personally prefer MacBooks over windows because of the overall ease and reliability of MacOS. If you are having trouble in deciding which laptop to purchase out of thousands available under this price range, go with it you won't regret.
Link: https://amzn.to/2uAVhKs
7. SKYVIK Beam Convertible Fast Wireless Charger
What do i say about this brand, they are very new and people love their products :D
Joke Apart! We recently launched this product which is one of a kind in itself, it's the only Convertible Fast Wireless Charger for iPhone X and all of the Samsung galaxy's. It supports charging at 5W, 7.5W, 10W which covers maximum output for all kind of wireless charging devices in the market. It has beautiful design with great functionality of using it as a Pad or as a stand. Comes with 1 year warranty. You can also check all other SKYVIK products like cables, mobile lens etc. We assure you great quality :)
Link: http://bit.ly/skyvikbeam
All SKYVIK Products: http://bit.ly/skyvik
8. OPPO RealMe 1
If you are looking to upgrade your old phone and your budget is less than 15K this is the finest option available in the market, packed with latest hardware, small bezel display and beautiful back. It's a full to paisa vasool item. There will be further deal on this device this Prime Day and you can get it at steal price.
Link: https://amzn.to/2upkw3f
9. Sennheiser CX 180 
These earphones are best sellers from long time and they justify the brand name with great sound quality. Sennhieser provides on of the best after sale service in this category and you can rely upon this product for atleast 2 years. 
Link: https://amzn.to/2LlDfD2
10. Philips Beard Trimmer
What do i say, it's a trimmer, it does what it's supposed to do and it's very good at that.
Link: https://amzn.to/2zJkbNQ
I hope this post could help you somewhere, tried to keep it light and simple. It's my very first blog so pardon if i made any mistake. Most of these products i have used personally and they can really add value to your lifestyle in different ways.